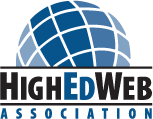 About Highweb Annual Conference
The HighWeb Annual Conference 2015 takes place on October 4-7th in Milwaukee, Wisconsin at the Hilton Milwaukee Downtown which is connected to the main conference facility, the Wisconsin Center.
The Higher Education Web Professionals Association (HighEdWeb) is an organization of Web professionals working at institutions of higher education. They design, develop, manage and map the futures of higher education websites. Their mission is to "strive to advance Web professionals, technologies and standards in higher education." To that end, HighEdWeb joined forces with WebDevShare in 2004 to create an annual international conference where the community can come together to learn, share and network. The Association also runs a series of smaller, targeted regional conferences around the United States.
Why attend

The HighEdWeb Annual Conference is the conferences createdby and for higher education Web professionals. This not-for-profit conference offers high-quality presentations, speakers and events at affordable rates. From Web developers, marketers and programmers to managers, designers, writers and all team members in-between, HighEdWeb provides valuable professional development experience for all those who want to explore the unique Web issues facing colleges and universities.
Conference Facility
Hilton Milwaukee Downtown
Connected via skywalk to the Wisconsin Center, the main conference facility. All rooms include complimentary Internet access for HighEdWeb attendees. Hotel guests are welcome to park in the secure and covered parking garage adjacent to the hotel for a fee (check with hotel for current pricing). Additional surface parking and parking garages are available nearby.
This content was originally posted on: 2015.highedweb.org
*Need short term tech rentals for your next event in Milwaukee? Click here!